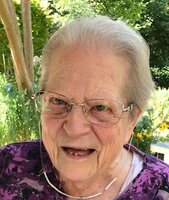 Helen Eva Dejewski
Helen Dejewski, avid reader, card player and the definition of a matriarch, passed away peacefully on March 4, 2023 at the age of 109.

Born the year after the Titanic sank and before NYC had electricity, Helen has seen, learned and experienced a lot. Although she never grasped the idea of what the internet is or how cell phones "stuff pictures inside" of them, she held onto the importance of family and focused on the positive things in life, no matter how small. She was always in awe of clothing that came in colors other than black, brown or navy. She enjoyed the the colors of nature. Most importantly, she always had a smile on her face when any of the children in her family were around.

Helen, a loving and dedicated mother to a family of four boys was brought into this world on Sept 16, 1913, to Valerie and John Rafinski. She was born and raised in Greenpoint, Brooklyn. As the only daughter, she was treated like a princess by her 3 brothers.

She met her husband, Leo in Brooklyn and they married in 1935. They were married for over 40 years until Leo passed in 1976. Helen and Leo had four sons. Thomas (deceased), Robert, Ronald and Donald. These sons brought more joy to Helen as they allowed her to have 12 grandchildren, 15 great grandchildren and 3 great great grandchildren.

Helen worked for Calvert Liquors, Pacific China and Union Carbide. In the 1960s, Helen became a clerk for the library. This is probably when she started to become an avid reader. She continued reading up until she closed her eyes for the last time. She read so often that she read all of the large print books from the library at Maria Regina Nursing Home. In fact, she was in the middle of rereading a book that she already rated "ok."

Helen was truly a resident of Long Island, from the West to the East. She resided in Greenpoint, Springfield Gardens, College Point, New Hyde Park, Glendale, Richmond Hill and Riverhead before she found herself in the nursing home in Brentwood. While she was in Riverhead, she was an active community member. She volunteered for the Retired Senior Volunteer Program and interacted with other Seniors at community events. Helen lived alone in Riverhead up until the age of 102.

In her final years at Maria Regina Nursing Home, she enjoyed reading the newspaper, participating in activities (except for Bingo which she found boring) and whooping your butt in a game of Kings in the Corner or Pinochle. She also enjoyed watching her great grandchildren run around.

At 109 years, she left a lasting legacy of family and friendship.